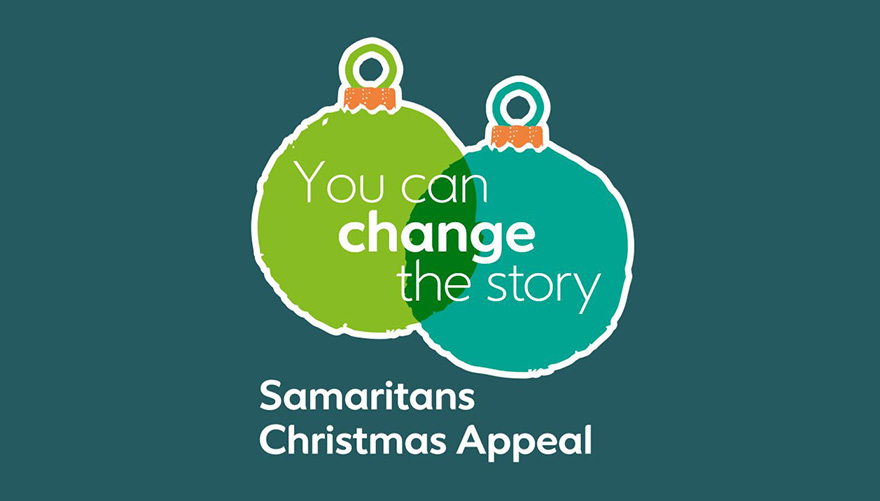 Last year Samaritans volunteers answered 10,050 calls for help on Christmas day. Every call for help we respond to this Christmas can be the one that saves or changes someone's life, and it all begins with you. With your support we can help change someone's story forever.
Festive Fun-draising
We might not be able to celebrate the festive season together this year, but we still have plenty of ideas to get you in the Christmas spirit and have fun, all whilst supporting and raising vital funds for Samaritans.
(virtual) Christmas party
Agree a dress code, why not collect £2 from everyone who wears a Christmas jumper – and £3 from everyone who doesn't? Host a festive quiz with a small charge for taking part, to raise funds for a great cause while having fun with colleagues. Try a family gameshow themed party, find a collection of objects in your house and play the Generation Games conveyor belt challenge, or make your own version of Would I Lie to You.
Secret Santa
Instead of spending £10 on Secret Santa presents, why not agree with your colleagues to set the limit at £5 and have everyone donate £5 to Samaritans. It costs as little as £5 to respond to a call for help that could save a life. The Samaritans online shop includes a section for gifts under £10, gifts that are good for the body; good for the soul; good for the planet but most of all helping those who reach out to Samaritans
12 Days of Christmas challenge
Take on a challenge over 12 days or do 12 challengers and ask your friends, family, and work colleagues to sponsor you. To make the challenge more interesting you could ask your sponsors to donate £12 and pick a challenge for you to do.
Virtual Bake off
Mince pies, gingerbread, or yule logs – get everyone together to bake their favourite festive treats and crown the winner as the star baker. Ask for donations from those taking part and anyone wishing to vote. If you're in the office once the competition has ended dish out the treats and in return ask for donations.
Or maybe share your favourite cocktails in an online masterclass
Virtual Winter Wonderland Fitness Challenge
Take on a Santa themed fitness challenge either as part of a team or on your own. Share your achievements with friends, family and colleagues via social media and inspire others to support you by donating to Samaritans.
Festive film watch-along
Choose a classic film to watch and enjoy a cup of hot chocolate together. Why not create a group chat space for people to share their thoughts as they watch the film in real-time. You could even encourage people to watch in fancy dress to add to the festive fun! Learn how to host a virtual watch party here.
Christmas Night In
With the night's drawing in, and more of us observing social distancing measures, it's a good time for a Christmas Night In. Spend it however you like – just as long as you put you first. Whether it's settling down with a favourite book, taking some time to practise some of our breathing or muscle relaxation exercises, or spending some time catching up with a friend over the phone, treat yourself with a Christmas Night In. Donate the cost of what you'd have spent on an evening out to Samaritans and help us support anyone who is struggling to cope.
How to send us your donations
Whether you're donating the equivalent of your usual Christmas party spend, helping Samaritans respond to a call for £5 or whatever you can spare you can donate online, over the phone 03709 000032 or by cheque made payable to 'Samaritans' to Community and Events (MHC), Samaritans Register's Office, The Upper Mill, Kingston Road, Ewell, KT17 2AF. Don't forget to quote Million Hour Challenge.
"Your support for Samaritans changes the story for people like me every day. Thank you so much for your kindness. I know just how much being listened to can mean. "
Jason, Samaritans caller
Thank you so much for your incredible support!