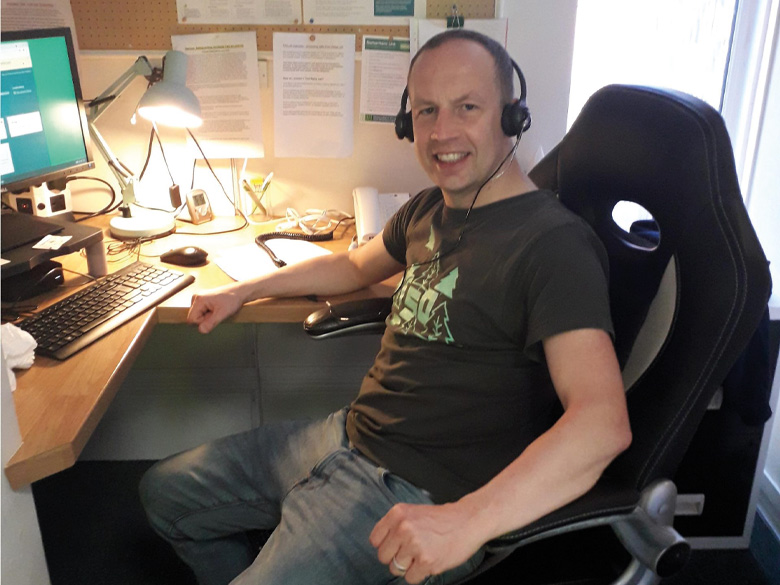 I decided to sign up to become a Samaritans listening volunteer in December 2018 and after training qualified in September 2019 and have been somewhat thrown into the deep end helping callers throughout the pandemic from the Huddersfield branch.
When the pandemic hit in March 2020, our branch director was amazing and arranged for us to have letter classing us as key workers so we could continue the service. Volunteering throughout the pandemic has also helped me – I've been able to get out and do something other than my day job, where I feel like I'm helping out in some small way and have been there for somebody to reach out to and be a listening ear for. I think the calls have become more intense over the last few months and even though restrictions are easing, I think the repercussions are going to be felt for a long time and it's more important than ever for us to be there for our callers. I feel like Samaritans volunteers have been one of the emergency services over the past year and it's been an honour to be there for people.
I decided to join Samaritans as a volunteer for a number of reasons. I wanted to do something that was different to my day job and because I've worked in the rail industry for 16 years, I've seen the impact suicide on the railway can have on people. I know Samaritans works with the rail industry about managing suicidal contacts and supporting staff, which really interested me. Another big inspiration for me, is the fact that I have been diagnosed with generalised anxiety disorder. I've had it for a number of years, but was only diagnosed around 7 years ago when it became a bigger problem and affected my life. I was overthinking and excessively worrying, so I went to the doctor and was referred through to Occupational Health with TransPennine Express. It is a pain, but I do manage it very well now – through medication, lots of exercise, a good work / life balance and talking openly about it and not hiding it. However, what I love about Samaritans when I am on the phone to callers is, it's not about me, it's all about them. I have to be very open minded and go with it to help the caller, whereas in my day-to-day life because of my anxiety, my life is quite structured and scheduled – which is why I think being a volunteer helps me and my anxiety too. People shouldn't be put off volunteering for Samaritans if they have a mental health issue themselves as the support is there for them – it doesn't need to be a barrier.
I feel like being a Samaritans caller is my other job now and is the other part of me. I've got 'TransPennine Rich' and a 'Samaritans Rich' and I'm using different skills for each and I like that. I've learnt the ability to truly listen and not wait to speak yourself, without any prejudgement at all and it's really helped me at work as well, especially in my job as a trainer.
I've made some really good relationships with people from volunteering too. My current shift partner and I are from very different backgrounds, but we get on really well and love finding out about each other's views and perspectives when we're chatting between calls. I think it helps me listen even better as a volunteer and has opened my mind.
I've currently got a regular shift in branch and then I also do a leader shift too where I support the listening volunteers. I love the structure of volunteering for Samaritans and knowing I have the support around me too. I sometimes do an extra night shift and lark shift which is from 3am-7.30am, which I really enjoy. Those times are probably some of the most rewarding calls I've ever done. Knowing that you're speaking to people in the middle of the night, who can't sleep and have these thoughts running round in their head and no one else to talk to and you're able to give them time and support they need in their darkest hour. It's an honour to be there for them.