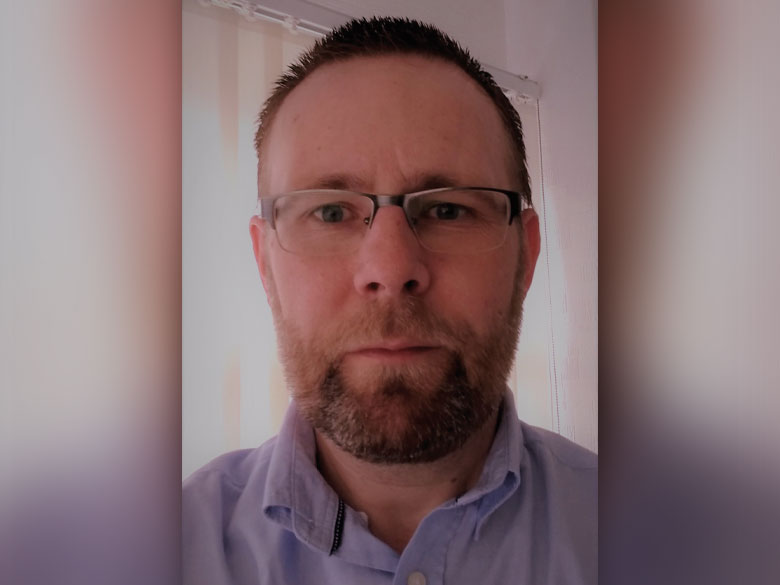 I first started volunteering for Samaritans in 2002, when I was 26 years old. I started off working at Grimsby branch and then I moved towns, so transferred to Scunthorpe in 2010. I'd got to a point in my life where I had some spare time on my hands and instead of coming home from work to just watch EastEnders or Coronation Street, I thought I could be doing more with my time and helping people. Like many people, I've had my ups and downs in my life and with my mental health and fortunately I had a lot of support from friends and family at the time. But I thought, what if I hadn't had that support network there – what would I have done? So in volunteering for Samaritans I hope I'm helping and being a listening ear for people who haven't got that support.
Over the years, I've had many roles at the branches, as well as being a listening volunteer, including a shift leader, where I am there and on hand to help the listening volunteers debrief, a recruitment co-ordinator, a regional marketing officer and a deputy branch director twice. We work shifts, which is brilliant as Samaritans is a 24-hour operation, much like the railway is, so there is the opportunity for volunteering to work flexibly and such a variety of roles if being on the helpline isn't for you – there's a way for everyone to give something back.
When I moved branches, Samaritans had just gone into partnership with the rail industry, and I helped market the very first 'Men on the Ropes' campaign. More recently, I've been involved in the industry's 'Million Hour Challenge' contributing my volunteering hours and encouraging others to get involved. I know many of my colleagues who have done the 'managing suicidal contacts' training and the basic skills taught are the most important ones that we are also taught as listening volunteers and have led to people making interventions and saving lives on the railway. The partnership with Samaritans is such a brilliant thing for the rail industry to be involved in.
I have taken some time out of my listening volunteer duties during the pandemic as I have a few family members who are quite vulnerable and needed protecting. Instead, I've supported the branches as a shift leader which I've been able to do from home. In supporting the shifts, I've become very aware of how the pandemic has been really difficult for people. It's been isolating and brought on loneliness, anxiety and stress and all the disruption to people's lives. Whether you are taking the calls yourself or listening to your shift colleagues debrief – it's felt especially rewarding. I have my vaccine coming up so I'll be looking to get back in the branches and answering calls as soon as I can.
My family are really proud of me being a volunteer and are always really supportive – they know it's something I believe in and is really important to me. Being a listening volunteer is part of who I am now – especially after nearly two decades. I've made some lovely friends too – you meet such a variety of people from a range of backgrounds and walks of life, but we've all got that common bond in Samaritans and wanting to help people, which means you build such great friendships.
Being a volunteer, you learn the incredible power of listening and power of giving people time and space to talk. It's also boosted my confidence as well and benefited my personal and professional life – doing talks for Samaritans and press or radio interviews – when I first started, I'd have said 'no chance', but I've done it and I've been pleased to do it because when you believe in something and realise something is such a good precious thing, you want to talk about it and spread the message.
I don't regret doing this for one minute. It's a solid part of my life now and it's a privilege to be a part of.