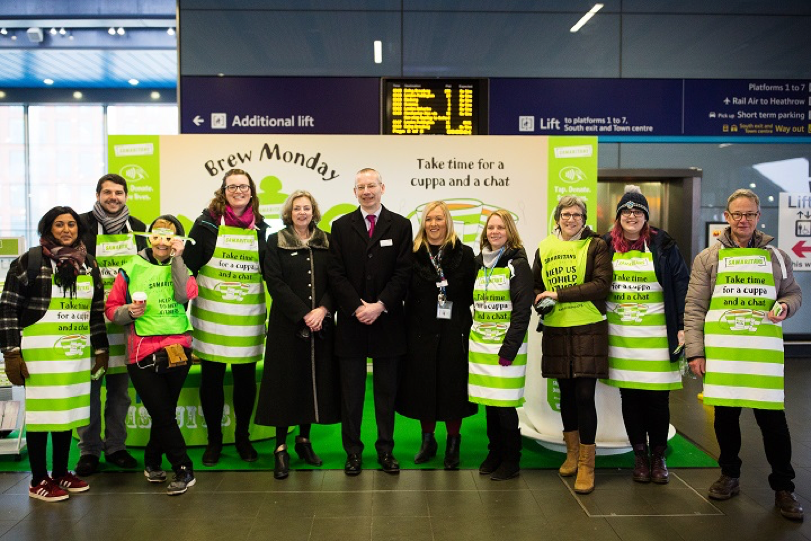 Reading station hosted a 'Brew Monday' event on 21 January 2019 in a bid to banish the January blues and reach out to anyone who may be lonely and in need of a cuppa and chat.
Colleagues from Reading station joined Samaritans volunteers and braved the cold weather to spread a bit of warmth by distributing over 6000 free tea bags to rail passengers and encouraging them to reach out to anyone who may be struggling.
Isolation and loneliness are one of the main reasons people contact Samaritans, so getting together for a brew with friends, family or colleagues can provide a lift on what is meant to be one of the most difficult days of the year.
Samaritans deputy chief executive, Fiona Malcolm said: "We had an incredible day at Reading station and with community events across Great Britain. On a cold morning you could see how much the travelling public really appreciated the warm welcome. Thank you to Network Rail for helping support this important campaign."
Mark Langman, route managing director- Western, joined Samaritans at Reading station: "Brew Monday is a fantastic opportunity for the rail industry to show its support for Samaritans and the great work they do in helping people up and down the country.
Millions of people use the rail network every day and if – through this campaign – we can encourage them to take a moment to talk to one another during their journeys, we will be making a significant contribution to their lives and to the lives of those around them. Taking the time to stop and have a chat over a cup of tea is a great way to connect with others and can be all it takes to brighten someone's day."