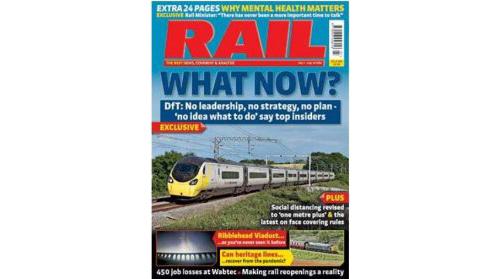 On 29 June, RAIL hosted their first webinar focused on 'Supporting each other: Mental health and the railway', featuring Rail Minister Chris Heaton-Harris, HM Chief Inspector of Railways Ian Prosser CBE and Network Rail's Suicide Prevention Programme Manager Ian Stevens.
More than 450 people registered to join the 45-minute live event that examined how mental health and wellbeing is promoted across the industry, with particular focus on the added emotional strain presented by the Coronavirus pandemic. The webinar was broadcasted in association with the 24-page mental health and wellbeing supplement published in RAIL 908.
During the webinar, the Rail Minister paid tribute to the dedication, professionalism and passion shown by frontline rail staff in keeping fellow key workers and vital freight flows moving since the beginning of the pandemic, as well as acknowledging the increased mental strain that has been placed on all rail staff.
Samaritans are supporting key workers alongside Shout, Mind, Hospice UK and The Royal Foundation with Our Frontline, around the clock, one to one support service for key workers. Our Frontline recognises that key workers have put themselves at physical risk while forming the frontline against coronavirus. This has also put their mental health under pressure and this collaboration is providing support both now and in the future. In addition to the one to one support by call or text there are resources, tips and ideas to look after your mental health.
The Million Hour Challenge is supported by Rail Minister Chris Heaton-Harris. To read the full supplement and the Million Hour Challenge article please click here.