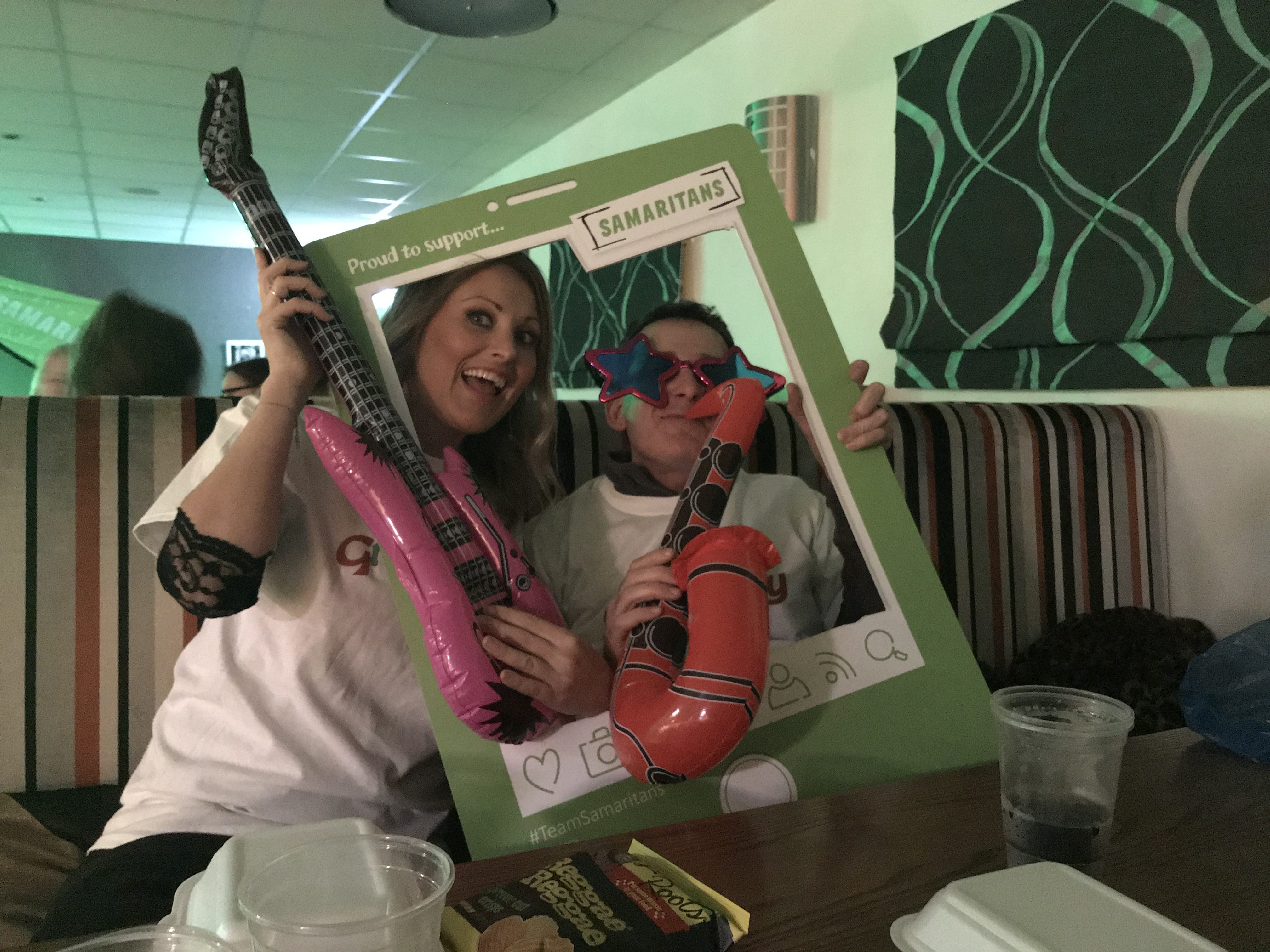 Over the years, East Midlands Trains employees have raised tens of thousands of pounds for Samaritans; from cycling to railtour based events, all in recognition of the great work Samaritans do to help reduce rail suicide and provide trauma support.
Friday 9 November 2018 saw the company diverge from their usual fund-raising tactics and deliver their first ever musical charity event at the Notts County Stadium. Six individually talented employees banded together to put on a stunning live performance with all ticket fees donated to charity.
The idea for 'Grifftonbury' was put together by East Midlands Trains staff; Paul Griffin (Griff) and Darren Ward and Ola Rzepczynska from Samaritans, while they were preparing for a Suicide Prevention Conference in Norwich in 2017.
With Ola and Griff being lifelong Glastonbury fans, they were debating what they would be doing for 2018 when the event wasn't on. Griff let slip he played Bass, from then on, the seeds were sown and watered. Just over a year later, he stood by his word and 'Cut & Run' were formed, consisting of Pete Eddy (Driver, Nottingham), Simon Thorpe (Driver, Nottingham) Paul Griffin (Driver Depot Manager, Nottingham and East), Jason Ochello (Driver Depot Manager, St Pancras), Duane Firth (Driver Manager, Nottingham) and Ashley Wynder (Nottingham Ops Supervisor).
After months of rehearsals, marketing, planning and even commemorative t-shirts, the big night arrived. Darren Field-Thomas took on the role of 'Master of Ceremonies. Four special guests from Samaritans took to the stage to provide the context of what they do, how they appreciate the close working relationship they have with East Midlands Trains and to pass on their thanks for laying on such a special event. 'The Echoes' kindly donated their time to open the event and started to get the crowd in the mood for a party.
Cut & Run were introduced for a two-hour set that had everyone on the dance floor. Encompassing classic tracks covering four decades; from ballads to 'Pop' to Rock 'n' Roll, Cut & Run performed for their audience who were all on the dance floor 'strutting their stuff' and enjoying the party.
But they were there for more than just fun; they were there to raise money for Samaritans, and with a total of £4,800 including Gift Aid they exceeded all expectations from the event's organisers.
The team are already excited about being able to host Grifftonbury 2019 where Cut and Run will rise again for an even bigger and better party! Paul Griffin, Driver Depot Manager, East Midlands Trains said: "We hoped it would be a fun night, raising a few quid with friends. What actually happened fills me with pride; the atmosphere in the room was electric and really helped us perform better than we had hoped.
"The band really pulled together and delivered a better performance than we had ever dared to imagine. Then comes the money raised, the sum utterly destroyed our wildest expectations. I'm really proud of everyone that contributed to make Grifftonbury such a spectacular evening with friends".
Ola Rzepczynska, Head of Strategic Partnerships Samaritans said: "It was an absolute pleasure and honour to be at the very first Grifftonbury! Thank you so much to everyone at East Midlands Trains for making it happen.
"Cut and Run and The Echoes were phenomenal, and I left Grifftonbury feeling totally gobsmacked by the effort, time and musical talent that went in to the event. You can certainly count us in for Grifftonbury 2019!
"What an incredible night and not only were the performances amazing, East Midlands Trains raised a total of £4,800 for Samaritans, what superheroes! You should all be incredibly proud!"