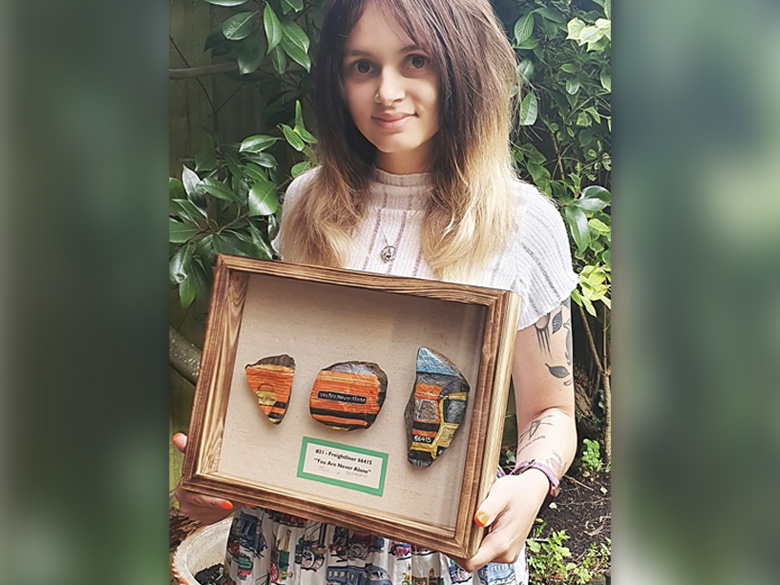 Growing up I was already part of what we call 'the railway family' as my dad was a guard and conductor at Ipswich. He made the job look really cool and I thought 'that's something I want to do'. So, I started as a guard for Greater Anglia and now I'm a freight train driver for Freightliner and live in Hampshire. I love my job – the safety element of it is so important and something I am really passionate about and that includes helping and looking out for people that might appear vulnerable.
I've attended Samaritans 'Managing Suicidal Contacts' course twice and both times, I came away really inspired. For me, I felt like what I was taught on the course were skills that I use every day when I'm communicating with people, but it gave me more confidence to do that with someone who needs help, listening to them and repeating answers back to them to encourage them to speak and knowing how to get them to safety.
It's so brilliant that the railway industry has been able to do the course online too this past year and I know of so many rail staff who now consider looking out for people an integral part of their job after doing the training. It feels like there is an army of Samaritans listening volunteers out in the railway industry now too.
I have helped people that are vulnerable. One time I approached someone who I didn't think appeared vulnerable, but I had a gut instinct, and at the end of the conversation they said 'thank you for talking, I wasn't going to go home'. Another moment that stuck with me was when I walked past a young girl and she had a few bags with her and looked like she'd been crying. I just asked her if she was okay and she said she was, but I persevered and ended up sitting with her. I just started talking about her bags, making small talk which I felt distracted her and also built trust. She ended up telling me that her boyfriend had left her and she didn't have any money to get to her mums so she was just sat on the platform not knowing what to do. I helped her work out her options. I think just showing her a bit of kindness was exactly what she needed.
I feel such an adrenaline rush when I'm approaching someone that I think needs help – I never know how they're going to react or what I'm going to say, but I seem to go into autopilot. Afterwards it feels so rewarding knowing you've helped someone and that what you've done can make all the difference to that person.
Of course, there are times when the rail staff and train drivers really feel the impact if something has happened, which is why I'm so passionate about safety and supporting mental health, making sure people know help is available. Everyone in the rail industry is so supportive and looks out for each other – we call ourselves 'the railway family'. We took part in Brew Monday this year and had a virtual session and cup of tea and a catch up with rail workers, which was so brilliant to get everyone talking. It is one huge network, but all the regions and companies work differently – so it's really about listening to people and anticipating risk; that's what is going to keep you and your passengers safe ultimately.
As well as safety on the railway, I'm also a big advocate of women in rail and I started a twitter account when I was a guard and often get questions asking how to get into the industry from young girls. I tell them that is it tough in a male dominated industry, but you need to take it in your stride and just go for it because you will go from strength to strength. It's so refreshing working for a company like Freightliner as we're all treated exactly the same and just as people.
To support Samaritans and raise awareness and funds, I took part in Samarathon in 2020 and ended up walking a total of 322.42 miles in July and raised £1064. I'd planned to walk 10 miles every day for the whole month. It wasn't only a success, but it had so many benefits for me too. I was able to remain active and explored new towns and places, which kept my mind active too and off the stresses of the pandemic.
I documented every day with a summery post on Twitter under the hashtag #BessieGoes and I got quite the following. More donations poured in and people all over the country, especially railway colleagues, were beginning to walk with me virtually which was hugely motivational. Since July last year, I've now found my love for walking and have kept it up since – I'll walk wherever I can now.
I took on the challenge again this year, and as well as walking every day and getting the train to new locations, for every person that sponsored me I wrote their name on a piece of rail track ballast and put it in a backpack which I carried everywhere with me. In the end I had 121 pieces of ballast which weighed over 7lbs! I thought it would be a nice message to show how I'll always be there to pick them up and carry them, just as Samaritans does. I walked over 106 miles and travelled over 1400 miles by rail. It fell at quite a good time for me as I was unemployed and waiting to start my new role at Freightliner – so it gave me a great focus and was life-changing for me and my mental health too.
To raise even more money, I also painted train pictures onto ballast and auctioned them off for Samaritans – with some even going for up to £100 a piece. I was so proud to be the top fundraiser for Samarathon and raised £5864. So many people, inside and outside of the rail industry, got behind me and the challenge – I'm just in awe of them and their generosity. I'll definitely be doing the challenge again next year!